It would have been around 2am, we'd been dancing in Kuta, mostly in Sky Garden, since around 10.

Every one of the 15 or so Buck's Party attendees was fairly drunk, and it was time to organise the group (or those who wanted to), and get taxi's back to the private villa in Canggu to continue the party.
There was safety in returning to the private resort; and the wives and girlfriends would be happy their men weren't out all night crawling the streets of Kuta... getting into God-knows-what kind of mischief.
Being 2am on the night of a Buck's Party, I was pretty drunk... not too messy... and sober enough to remember the details of this story.
For those that don't know, Sky Garden is a club slap-bang in the middle of Kuta. It's a popular hangout for tourists, and locals looking to pick-up a tourist (including the working girls). There are 3 floors with different themes, but the best feature is the rooftop bar, with cheap cocktails and good views of Kuta. The folks at Sky Garden put on nightly shows, including girls dancing on the bars and fire twirling. There's also a buffet dinner early on, if you wanted to line your stomach with something before the serious drinking and dancing starts.
Now this wasn't your typical "messy Aussie boys week" in Kuta -- as most of the reports you read on blogs would suggest you steer well clear of -- although, there is plenty of that going on in Bali. It was a bunch of grown men, being mostly respectful, and in Bali for a destination wedding.
Usually I'm an advocate for respecting local customs, but I'm also an advocate for the Western tradition of a Buck's Party being a man's rite-of-passage into settling down into family life, his "last night of freedom". A few of the boys that came along, could have easily been cast as any of the characters of The Hangover franchise.
So, the end of the night, we split up the group into multiple taxi's and agree to meet back in the private resort.
Without thinking, we hailed a cab.
I'd been in Bali 5 days by this point, and had a pretty good idea about the Taxi Scam operations that run there to rip off tourists. But being a few too many beers deep, with other things on my mind, we just jumped into the first taxi that stopped.

I was too busy talking to the girls, and talking about how much fun they had dancing with us in the clubs to notice, but the best man was pretty sober -- you have to be to organise 15 drunken tourists on a Bucks Party.
After we dropped off the girls, and started heading up towards Canggu, he noticed that the meter wasn't ticking over. I was oblivious.
Joe: "Hey man, turn the meter on. Why isn't the meter running?"
Driver: "Oh, its broken"
Joe: "Well, how much is this ride going to cost us?"
Driver: "$200,000 Rupiah"
Joe: "What? What the f*ck are you talking about man? Its a 50k Rupiah fare so far! We went this way earlier tonight!"
Driver: "No. Always $200,000."
Joe: "Pull the f*ckin cab over man. Here! Pull over here!"
The driver abruptly pulls the cab over to a stop on the side of an alleyway.
Me: "Wait? Whats going on dude?"
Joe: "This driver is scamming us man! He wants $20 for a $5 ride!"
Me: "Well, where the hell are we?"
Joe: "Down some backstreet somewhere, in the middle of nowhere. This guys probably taken us out somewhere remote to rob and kill us."
Me: "I dunno man. But we can find another cab. This guy's just trying to rip us off."
We exit the cab. The driver also gets out. Pulled over, down some alleyway, all the doors open. No one in sight.
Driver: "Hey Mr. You pay! $200,000 Rupiah or I go to police!"
Me & Joe: "F*ck that mate. We're not paying. You didn't even run the meter. What's your licence plate? We'll get the police."
There was a bit of pushing and shoving, and a bit of bravado.
The driver was yelling, Joe was yelling.
We knew we weren't in the best place to get in an argument. So I tried to calm the situation down.
Me: "Listen mate. You're obviously trying to scam us. There's no way this ride is worth $20. How about I give you $5 for the ride so far, and you go on your way?"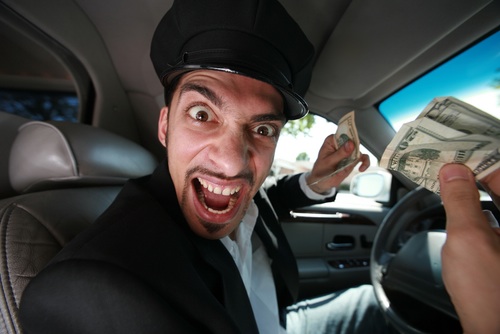 He is still quite aggravated, and pushes me a little. He picks up a large cement cinder block that happens to be lying in the rubble next to the cab.
The air is eerily still. The full moon is out. A few dogs are barking in the distance, but there is no one around.
Without thinking (and probably being a little too drunk), I was in the drivers face. The adrenalin pumping, seconds feeling like an eternity.
You know that moment when you sense the danger, and you know that things could go from bad-to-worse at any time? All that was missing was the (classical) musical score from this scene.
Being drunk and full of bravado, I didn't back down. Right in his face, chest out, my dirtiest-angriest look, showing him that we weren't going to be amongst the many tourists that get ripped off tonight. All over $20.
I stuff $3-4 into his shirt pocket and motion for him to leave.
"You better step off mate. Back down, and drop the brick" I said "What are you gonna do? You swing that at me, and I'm gonna put you in hospital".
Inches from his face the whole time. He must have known I was a bit drunk and reckless.
He cursed at us, dropped the block, got in his cab and left.
Joe: "Man, I thought you were gonna knock that guys head off!
I was taking pictures for evidence while you were arguing with him. I was worried he was some gang-banger with a gun or knife or something!
Where are we man? Middle of f*cken no-where!
Wait til the boys hear about this."
Me: "Lets go find a cab man. This time make sure it's a marked cab."
The following 2km walk in a random direction in the dark passed quickly as we ran through the events that just happened, and waited for the adrenalin to wear off.
"Man I do some stupid sh*t when I'm drunk" I said. "We're lucky he didn't get violent".
We find a main road, and eventually hail another cab, and make our way to the private resort booked for the wedding.
The Various Taxi Scams
Nearly every major city has a taxi scam, usually running out of airports, and main transport hubs. And almost always for a few extra dollars. You really only make the mistake once, to learn the real value of the ride.
I paid $8 for a ride from the airport my first night, but soon found out it was a $3 ride. No point arguing over $5. I was just happy to make it to my hotel by 1.30am, and climb into bed.
They may vary from location-to-location, but these are the most frequent taxi scams to be aware of:
Charging the wrong rate or having a meter that "ticks over" too quickly. Most taxi systems have a different tarriff depending on the day, destination, and zone. The cabbie has a selection of buttons he can flick to adjust the rates. There is no need to be pressing these buttons at any time during the ride, unless the advertised time has passed (eg. rate changes after 10pm).
Not turning on the Meter, failing to zero the meter, or claiming the meter is broken.
A clone cab, or cab without the right advertising, driver licences, etc. These are the scammers you are most likely to encounter at tourist hotspots. They can't use the official parking or taxi ranks, but they can always be found nearby.
Extra charges for tolls, bridges, air-conditioning, or carrying your luggage.
"Taking the scenic route". This scam is also known as longhauling; where the driver takes a longer more-complicated route to your destination, just to get the few extra dollars in fare.
Asking about your destination, then telling you its closed, out of business, or just not a good choice, then offering to take you somewhere else "better". This scam involves the driver getting a kickback from the owner of the business.
Taking you to the wrong location, pretending to be lost, insisting it's where you asked to be taken, then charging extra to finally take you where you should have gone at the beginning.
A slight-of-hand switch to exchange bills for a lower denomination, or foreign currency.
Running the meter in a local currency, then at the end of the trip, claiming its in dollars or euros. Of course, it works out to be much more expensive.
Claiming to have no change. You pay your fare in a large denomination note, and the driver claims to have no change, and makes no attempt to break the note with nearby business owners. He's hoping you will leave it at that, and give the change as a tip.
Reduce your Chances of being Scammed
do your research: look for a display of the fare at a fixed rate, or a marked (licenced) cab
check the meter is on, and ticking over (not too fast). Make sure it's zeroed out before you start the trip.
discuss the fare: get a quote on the price before the ride starts
never travel alone when you are vulnerable (or drunk)
organise the taxi from the hotel front desk, but make sure they don't have a commission on the top
be sure that you know how to identify your driver, keep an eye out for his name and taxi licence number
Watch your money. Carry small change so you can get as near as possible to the correct fare. Count the change given before exiting the cab
Don't get involved in an altercation with a taxi driver unless you're in a safe place, like a hotel or airport. Better to take up your complaint with the taxi company.
Don't pay your taxi fare until your baggage has been unloaded. Dishonest drivers have been known to drive off with suitcases still on board.
Further Reading
* images baliaust, leanne_pearc, Trombonite, BeautyfulBali